Sinter/Pellet Plant
A plant that produces sintered ore by mixing secondary raw materials such as limestone
with powdered iron ore in an integrated steel mill and heating it at high temperature.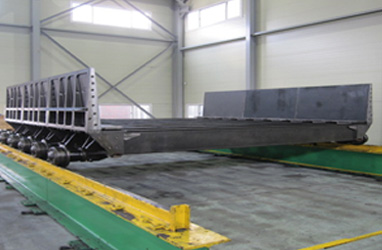 Sinter Pallet Car / Pelletizing Pallet Car
In the blast furnace operation of a steelworks, , if pulverized iron ore is directly charged
into the blast furnace, the flow of reducing gas is not smooth inside the blast furnace, resulting in poor furnace conditions and reducing the amount of discharge. Therefore, when the blast furnace is operated, a sintered ore, which is used to ensure a smooth flow of reducing gas and facilitate charging of the blast furnace by lumping powdered iron ore to a size of about 5 to 50 mm. Such sintered ore is produced in a downward suction-type sintering plant, and a cart for charging powdered iron ore in the sintering plant is called a pallet car.